Custom RESET Kit: Any Way You Like It
---
Personalization, it's all around you. Your home screen, computer apps, and even your workout program are all set to fit your lifestyle. Now it's time to personalize your diet, and we've got just the thing to help you do it—introducing our all-new Custom RESET™ Kit (item #252).
This new kit gives you the freedom to pick and choose exactly what you want to eat.
To show you how easy it is to create your own customized weight-management kit, we'll walk you through it, step by step.
If you're already a customer login to your USANA acount and go to the shopping cart and diet and energy products.
If you're a first time shopper click here  Custom RESET Kit.

Next, pick 10 snacks in any combination of Fudge Delite™, Peanutty Bliss™, Choco Chip™, or Go Nuts 'n' Berries. Then choose 15 Nutrimeal™meal-replacement packets in any combination of French Vanilla, Dutch Chocolate, or Wild Strawberry: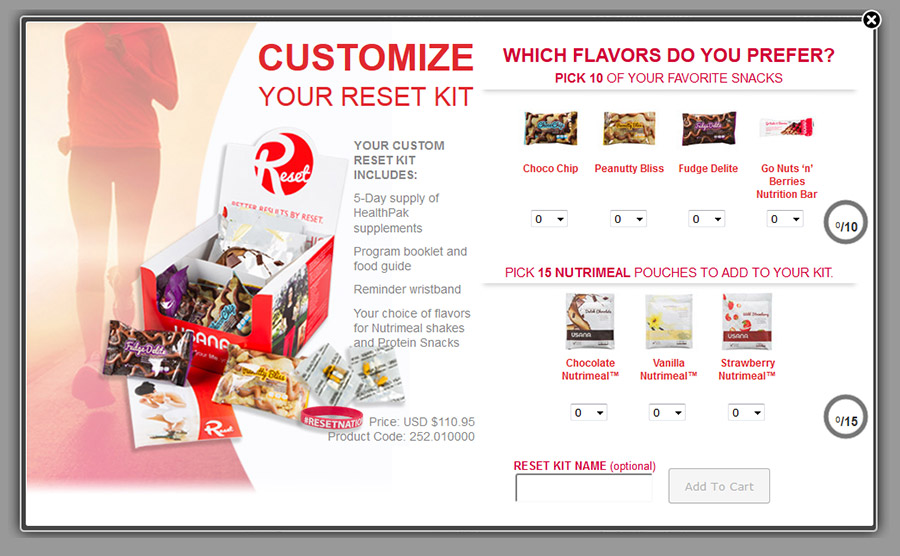 Add it to your cart, and voila!
A RESET Kit, just the way you like it.
Get the word out about the latest in personalization, and create your own Custom RESET Kit today.