Meet the Man Responsible for Feeding USSA's Olympic Dreams
Meet the Man Responsible for Feeding USSA's Olympic Dreams
By David Baker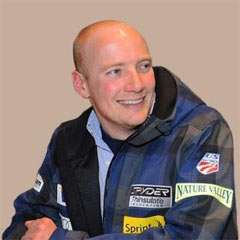 "I'm confident that any USANA product I give an athlete, they're 100 per cent safe to take it. That confidence—not only for me, but for an athlete who may be lacking in a certain nutrient or need some extra antioxidants or support while they're travelling—you can't even put a price tag on that kind of piece of mind and that confidence in a product for an athlete. It's just unmatched…If they weren't the sponsor, it would still be the company I would buy from simply because they guarantee the purity and the quality." —Adam Korzun, USSA High Performance Dietician
We might as well get this out of the way up front: there's no single, crumble-cornered recipe for a gold medal. It's not a cup of this and a pound of room-temperature that, bake for three years, and set on top of the podium to cool.

Actually, preparing world-class athletes isn't like baking at all. It's cooking. You take baskets full of ingredients and turn them into unique dishes. Some baskets contain similar ingredients—pure passion extract, stone-ground determination, raw athletic ability—but each requires something different for the finished product to be gold-medal worthy.

It takes a chef's touch. And it just so happens that Adam Korzun went to culinary school.


A Quick and Easy High-Performance Dietician 
Recipe will yield one Adam Korzun.
Ingredients:
– 2 parents from New York and New Jersey (preferably a mother who is a children's specialty nurse and a father in clinical chemistry)
– 3 heaping tablespoons of Mobile, Alabama
– A cup of culinary school
– A dash of boredom
– ¾ cup of nutrition classes
– Equal parts master's degree in clinical nutrition and exercise physiology 
– A pinch of athletic awesomeness (you can go with a store brand, or make your own from a teaspoon of baseball, third-string quarterback, and 2007 Colorado kickball championship)
Directions:
Mix frantically, then place in Colorado Springs at U.S. Olympic headquarters for a few years, move to Beijing for a few weeks, transport to Park City for cooling before finishing with gold medals in Vancouver. Sprinkle liberally with powdered sense of humour.

Cooking for Olympians 101: Teach a Man or Woman to Cook

Adam was recently in Bend, Oregon, with the cross-country ski team. He came in at the end of the 10 days to cook. As the high performance dietician for the U.S. Ski and Snowboard Association (USSA), that's definitely part of his job. Good thing Adam's pretty familiar with cooking. Growing up he'd come home from school and cook for his parents so he didn't end up "breaking things and myself," Adam says. When he was older, he did it for money in restaurants in Mobile.

"My first food group I discovered working in a restaurant was heavy cream," he says. "It's the first ingredient that I got to the restaurant and was like, 'What is this miraculous liquid gold?'"

It seems a long culinary journey from the heavy, fried environment of Southern restaurants to the salmon and quinoa Adam serves to Olympic hopefuls. And from a purely nutritional standpoint, it is. But those lessons of youth tend to stick to your ribs. 

Lately, his food may be more fruit and granola than gravy and grits, but the principles are the same. Select quality ingredients, balance your dishes, and, most of all, make the food taste good—make it exciting and worth eating. You can see it in the recovery kitchen Adam has set up in a room right off the track at the USSA's Center of Excellence (COE). Every morning he buys all-natural, hormone-free, whole-muscle meat and slices it himself. And there's the granola—the best in the world according to Troy Flanagan, USSA's director of high performance.

But cooking isn't all Adam does now. He's a planner, a teacher, an instructor, and the COE's resident celebrity chef. The goal is to give the athletes something more to take away than just a list of the amounts of carbs, proteins, and calories they need to perform at their best. Sometimes that means a trip to the grocery store to show young athletes they can afford more than ramen noodles. Other times it's a lesson about cooking salmon without it sticking to the grill. 


"He just keeps coming up with these facts, and I don't know where he gets them from," Flanagan says. "He'll say something like, 'Do you know that you should eat the green part of a strawberry?' I'm like, 'Why?' He's like, 'That's where all the vitamin c is stored.' I'm like, 'How do you know this stuff? What do you read?'

"That's what a good dietician can do, engage you and inspire you about food and fuel."


Simple, Fun-Stuffed Food 
Sample some of Adam's signature dish.
Ingredients:
– 1 tablespoon of powdered sense of humour
– ½ cup of all-purpose nutritional knowledge
– 6 ounces of positive energy
– 2 teaspoons of carefree extract
– a pinch of up-for-anything
– 1 bottle of colourful sprinkles  
Directions:
Do whatever feels good. And top it with sprinkles.

Cooking for Olympians 202: Balancing Importance and Fun

It's easy to get stuffy about nutrition. Without vigilance, you can fall into the trap of calorie count and nutritional requirement and forget about the simple delight of eating. Maybe it's the early exposure to high doses of heavy cream or his natural levity, but Adam has been able to keep food fun. And for the teams of often-exhausted athletes he deals with, that's a very good thing. At the cross-country camp it means a competition he calls Refrigerator Wars—spend less than $40 at the store, empty out the fridge, and enjoy making something good and good for you.

That's not to say Adam's approach isn't balanced—there's enough of the sweetness of food fun to balance out the sourness of nutritional dogma, and vice versa. It's probably because he understands how important food and nutrition are to the preparation of world-class athletes.

Calories are units of energy for a reason. Food is the fuel that runs the human machine. And elite athletes are top-of-the-line, high-performance models. That means proper, quality fuel results in quality training, which can result in Olympic glory.

But that's not the only role nutrition plays. Refuelling after a workout allows for proper recovery and rebuilds all the things training breaks down. Eating right and avoiding nutritional deficiencies has a preventative component, as well, Adam says. 

"Without nutrition, you can't do anything," he says. "It's just as important as strength training, as conditioning, as psychology, as physiology. It supports everything."


Adam's Favorite Dinner Party a la King
Great for any time of the year!
Ingredients:
– 2 pounds of idea (don't get caught up on this part, there will be enough seasoning that nobody will care about the quality of the idea)
– A handful of friends
– 2/3 cup creamy conversation (DO NOT use crunchy, smooth is easier to deal with)
– 6 cans of laughter
– 3 ½ tablespoons of camaraderie
Directions:
Fold conversation and friends into the 2 lbs. of idea. Mold mixture into fun shapes. Drizzle camaraderie onto each piece. Serve with a bubbling cup of laughter. Enjoy.

Cooking for Olympians 303: Athletes are Regular People, Sort of

If you were able to go back and take a peek inside the living accommodations for the USSA athletes in Vancouver, you'd see people gathered around tables eating together. What you'd be looking at is a feat of logistics and nutrition masquerading as family dinner. It's equal parts controlled environment and laid-back family atmosphere—exactly the mix they're going for.

But there are two big differences between the scene at the Vancouver Games and the BYOB dinner parties you throw on an average weekend. 1. Fewer future gold medalists attend. 2. Athletes don't eat like regular people—they use utensils, chew, and swallow, but otherwise, it's different. 

It's all about timing and composition. Adam has to help athletes get the right kinds of foods at the right time to optimize their performance in competition and training. He knows a mogul skier—whose event is 20 seconds—doesn't need as many carbs as a cross-country skier whose race is three hours long. An alpine skier can't be whipping down the hill at 80 miles per hour and get lightheaded because they're hungry or carb depleted. That's not the way to win. Adam knows athletes need proteins to rebuild their muscles. And the right fats. And proper nutritional supplements—that's the easy part since they teamed up with USANA in 2011.

"Where our bodies will always make up for it, with the athletes we want to make sure they're getting the right things at the right time," Adam says. "These things can all play a critical role in the hundredths of a second that are the difference between first and third." 

Timing and composition are the main factors, but there are other variables at play that Adam has to consider. Things like the intensity of training athletes are going through. In Bend, Adam would bump up carbs on long days, and pull in more protein as camp came to a close.

Maybe the most important considerations for Adam are the personal needs of each athlete. "This is just my own philosophy, but anytime you hear a one-size-fits-all diet, it's probably bullshit," he says. "Nutrition is all individual. No two people—based on an age or height or whatever—will have the same metabolic needs, caloric needs, or anything. There's no blanket recommendation."

The need for personalization and a focus on the needs of the individual are something civilian eaters share with their Olympic counterparts. Adam urges everyone to shy away from generalization, and instead do what's right for you, eat what works best for you, what makes you feel healthiest and strongest and fittest. 

After all, that's what food is supposed to do—fuel us so we can be at our best.

Read more about the athletes and organizations that trust their health to USANA's award-winning products in theathlete series archives. 


Bonus Recipe: How to Eat Like an Olympian
You might not be able to snowboard like Lindsey Jacobellis or soar like the ladies of U.S. Women's Ski Jumping, but eating like them just takes a little bit of effort. 
"The biggest advice I would give someone that's looking to eat like an elite athlete is just to plan your day better and don't react so much," Adam says.
You like to sleep in but you also like eggs in the morning. Easy. Hard boil some and grab one on your way out the door. Are you going to the gym today? Make sure you're fuelled up and ready to go. Are you sitting at your desk all day? Maybe back off the carbs a little. Do you know you always get hungry about 10 a.m. and 3 p.m.? Plan some snacks like Greek yogurt or a delicious Nutrimeal™ shake. 
Whatever you do, don't let yourself react to hunger or tiredness. Just plan for it.